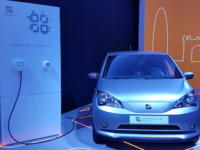 Massive global investment by the automotive sector in connected and autonomous vehicles is creating new demands for automotive communications technologies. Enabling vehicles to communicate with the internet, other vehicles, the road infrastructure, other road users and pedestrians opens up opportunities to benefit wider society: making roads safer and reducing congestion will improve the flow of people and goods, reducing costs and creating economic efficiencies while cutting pollution.
"LTE sidelink", an adaptation of the core LTE standards, was defined by 3GPP in Release 14 to support vehicle-to-vehicle (V2V) and vehicle-to-everything (V2X) use cases. The functionality can also be used in conjunction with conventional LTE connections to mobile networks to open up a wide variety of innovative connected car services. LTE sidelink also offers the potential of out-of-coverage scenarios using connections over the 5.9 GHz band which has been allocated for Intelligent Transport System (ITS) services.
GCF has approved two Work Items Proposals to define conformance testing for Release 14 V2V and V2X. Once activated, a vehicle system supplier will be able to offer the automotive industry certified V2V/X products and systems.
Ends