Certification of MCPTT will give all stakeholders confidence that devices meet the demanding requirements of critical communications use-cases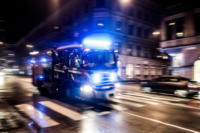 25 January 2018: The Global Certification Forum (GCF) is extending its certification scheme to critical communications devices. A new Work Item covering Mission Critical Push-to-Talk over LTE (MCPTT) was approved by GCF's Steering Group (SG) in December.
The required test cases are expected to be finalised by 3GPP RAN5 during Q1 2018, paving the way for MCPTT device certification to start later in the year.
In response to demand from public safety authorities for access to secure wireless broadband communications, 3GPP is developing specifications to deliver a variety of mission critical capabilities over LTE networks. Significant public safety services networks based on LTE are currently being deployed in South Korea, the UK and the USA as well as in several other regions and municipalities across the globe.
MCPTT provides enhanced voice-based push-to-talk communication based on the 3GPP Evolved Packet System (EPS), leveraging Group Communication System Enablers (GCSE) and Proximity-based Services (ProSe). It is part of Release 13 of the 3GPP specifications. The functionality will find applications across public safety, utilities, transportation and other commercial sectors.
The ability to demonstrate that devices conform to this standard will be of critical importance to all potential users; especially public safety authorities.
Mission Critical Video over LTE and Mission Critical Data over LTE have already been standardised within Release 14 while further enhancements are being developed for Release 15. These additional features could also be brought within the scope of GCF Certification in response to requests from GCF members.
MVNO organisational structures are being considered for several national, regional and municipal critical communications services that are being deployed on dedicated public safety and/or commercial LTE networks. GCF has extended it's membership catagories to now include MVNOs which will make certification accessible to MVNOs including public safety network operators.
Harald Ludwig, Chair of the Technical Forum of TCCA, the representative organisation for the global critical communications market, gave a presentation during the SG meeting which updated GCF members on the growing global demand for mission critical LTE features. Mr Ludwig emphasised the importance of establishing testing and certification processes which avoid replicating existing schemes. A Memorandum of Understanding between GCF and TCCA has recently been updated committing the two organisations to work together in the interest of their respective members in areas related to 3GPP Mission Critical Services.
Welcoming the approval of the MCPTT Work Item Harald Ludwig said, "While TCCA acted as the certification authority for TETRA devices, we recognise that LTE is a more complex environment. GCF has already accumulated significant relevant expertise that allows manufacturers to demonstrate that their devices satisfy the demanding requirements of mission critical users."
"Mission critical use cases highlight the fundamental importance of device conformance and interoperability," said Lars Nielsen, General Manager of GCF. "We have been providing a clear and easily accessible scheme for the certification of LTE devices since 2010. As the globally-accepted quality mark for establishing confidence in interoperability, GCF is ideally placed to support the adoption of mission critical LTE by public safety authorities."
Ends
About TCCA
TCCA represents all standardised mobile critical communications technologies and complementary applications. Members are drawn from end users, operators, industry and other stakeholders across the globe. TCCA believes in and promotes the principle of open and competitive markets worldwide through the use of open standards and harmonised spectrum. The Association maintains and enhances the TETRA Professional Mobile Radio (PMR) standard, and drives the development of common global mobile standards for critical broadband. TCCA is a 3GPP Market Representation Partner and its Members actively contribute in 3GPP working groups. (www.tcca.info)
About GCF
Global Certification Forum – GCF – is an active partnership between network operators, device manufacturers and the test industry. Since its inception in 1999, GCF has created an independent certification programme to help ensure global interoperability between mobile devices and networks. By providing the focal point for the world's most experienced practitioners in conformance testing, field trials and certification, GCF establishes best practice for the certification of mobile phones and the ever-expanding range of devices that incorporate wireless broadband connectivity. GCF is a 3GPP Market Representation Partner.
Contact [email protected] to meet with GCF at Mobile World Congress 2018 in Barcelona
Contact [email protected] to meet with TCCA at Critical Communications World 2018 in Berlin