A new Performance Criteria is initiated by a proposal from GCF's members. The support of at least four full members of GCF is required for a new Performance Item to be considered. A formal proposal defining the scope and business justification for the Performance Item must be endorsed by GCF's Steering Group, before development can begin.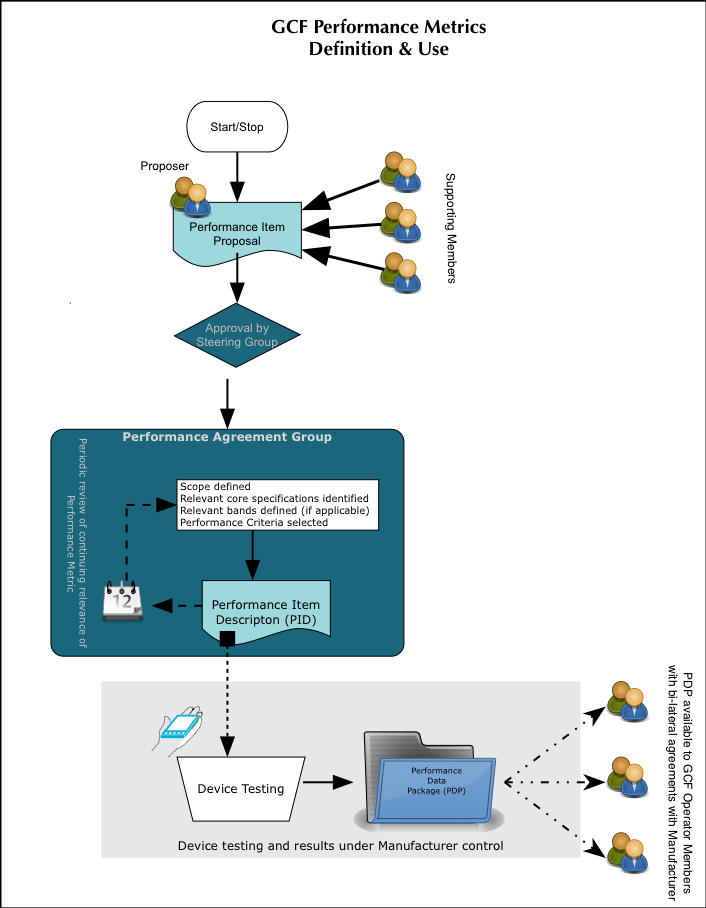 Any device-related requirements in core specifications or test specifications from any Standards Organisation recognised by GCF qualify for nomination as a performance item.
With its aim of minimising the duplication of testing, Steering Group will review whether the technology/feature is supported by an equivalent performance item in an appropriate standards organisation such as 3GPP, GSMA or OMA. GCF Operator Members commit to removing equivalent performance testing from their own operator-specific acceptance schemes.
A Performance Item Description - PID - must be developed once SG agrees to create a new Performance Item. This incorporates:
A more detailed definition of the scope of the Performance Item
A list of its constituent Performance Criteria
Affected bands (if applicable)
Target dates for completion of the Performance Item and its introduction for use
The relevant versions of the core specifications and the responsible standards organisation.
The completed PID is implemented and maintained by the GCF Performance Criteria Agreement Group (PAG).
The results of Performance tests for an individual device are known as a Performance Data Package (PDP). The Certification Declaration of the device will identify that a PDP exists. However the content of the PDP will only be disclosed to operators with bi-lateral non-disclosure agreements with the device's manufacturer: the PDP remains under the direct control of the manufacturer.
Within GCF's standard processes, Periodic Review Points are defined at the start of the initiative as for any other Work Item. The first will typically be 18 to 24 months after the Performance Metric has been introduced into GCF and will formally examine its continued relevance to the industry.