Platform Certification extends the principles of module certification to enabling manufacturers to design innovative new wireless products around a wider variety of previously certified functionality.
The scheme has been developed to simplify and cut the cost of certification by permitting and encouraging the re-use of test results.
What is a platform?
A platform is any hardware or software subsystem that provides defined functionality within the scope of the GCF certification scheme.
Examples of platforms include:
Chipsets
Core radio components
Protocol stacks
Applications such as MMS or SUPL
Downloadable clients
White label devices that are not marketed directly to end-users but are produced to be customised as operator- or retailer-branded products
How does Platform Certification work?
The platform supplier specifies the functionality the platform is intended to deliver
The supplier certifies the platform's functionality against all applicable GCF Certification Criteria
The supplier identifies test results that will not be impacted by the platform's integration into an end-product
During the certification of the end-product, the manufacturer references and re-uses the platform certification and undertakes the necessary testing to certify any other functionality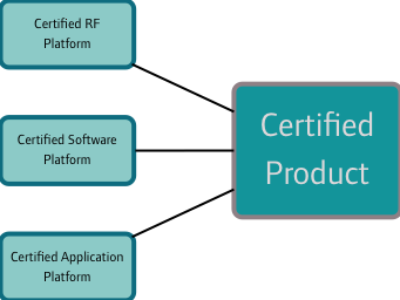 Platform Certification allows for multiple independent platforms to be integrated into a single end-product provided a suitably qualified expert, recognized by GCF, has assessed the integrations to ensure there are no co-existence issues.
Benefits of Platform Certification for manufacturers
Promotes the supply of pre-certified functionality which can enhance the performance of new mobile-connected products
Simplifies and cuts the cost of certifying products
Makes device certification accessible to more manufacturers and for all types of mobile-connected product
Streamlines the testing and certification phase of product development, reducing time-to-market
Expands the size of the market that the manufacturer can target by demonstrating that its product will work correctly on multiple networks in multiple territories
Any Manufacturer or Associate Manufacturer Member of GCF can reduce their certification testing by using pre-certified Platforms. Information on certified platforms is available in the members' area of the GCF website.
Benefits of Platform Certification for technology providers
Creates a market for pre-certified functionality
Companies wishing to supply pre-certified platforms need to join GCF as a Manufacturer Member.
Benefits of Platform Certification for operators
Increases the penetration of GCF-certified products connecting to their networks
Increases confidence in the quality of mobile-connected products
Reduces risk of disruption from poorly performing devices - to operators' networks and their other customers
Encouraging the use of pre-certified mobile functionality will also increase the overall quality and reliability of mobile-connected products available to consumers and business users.