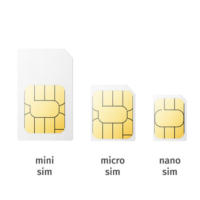 The Global Certification Forum (GCF) is developing a stand-alone certification process that will enable any OEM to certify that Remote SIM Provisioning (RSP) has been correctly implemented in their consumer devices. This new RSP certification scheme is expected to be ready for launch by the start of 2018 and will be offered to the whole industry without any GCF membership requirement.
Developed by GSMA, RSP gives device manufacturers the ability to allow consumers to select an operator to provide the connectivity for their new devices. Once chosen, the device can download the selected operator's SIM application.
A manufacturer can utilise secure embedded SIM hardware (e-UICC), that can be remotely provisioned, to design much smaller device form factors. RSP therefore makes it easier to extend mobile connectivity to devices such as smart watches, fitness bands, tablets, portable health systems and other consumer devices. RSP is also applicable to removable UICCs.
The GSMA RSP specification has the support of device manufacturers and mobile operators worldwide and remains the first and only global consumer remote SIM specification. The latest version of the RSP specification enables a consumer device to store more than one operator profile concurrently, although only one operator subscription can be enabled at any one time.
Organisations with an interest in RSP that are not currently members of GCF will be able to use the new stand-alone scheme to certify the RSP functionality in their consumer devices. GCF is working closely with GSMA to develop the new scheme. A dedicated RSP certification website is planned to facilitate the certification process and allow GCF's operator members and GSMA to access details of all RSP-certified consumer devices.
"RSP certification will be key to connecting an ever wider variety of new devices reliably to the world's mobile networks. GCF invites all device manufacturers to use the scheme to verify the correct implementation of their RSP functionality" said Lars Nielsen, GCF General Manager.
Ends