57 manufacturers certified a total of 521 mobile devices in 2017 according to the annual Mobile Device Trends report from GCF
LTE became the most certified bearer technology in mobile devices in 2017 according to GCF's annual Mobile Device Trends report.
Based on an analysis of device certifications published by GCF during 2017, the report reveals that total certifications increased by 10 per cent to 521 for the calendar year, up from 471 devices certified in 2016.
85 per cent of the devices that were certified by 57 manufacturers incorporated LTE, up from 76 per cent in 2016. LTE supplanted 3G (UMTS/WCDMA), which itself had only ousted GSM as the most certified mobile technology in 2016.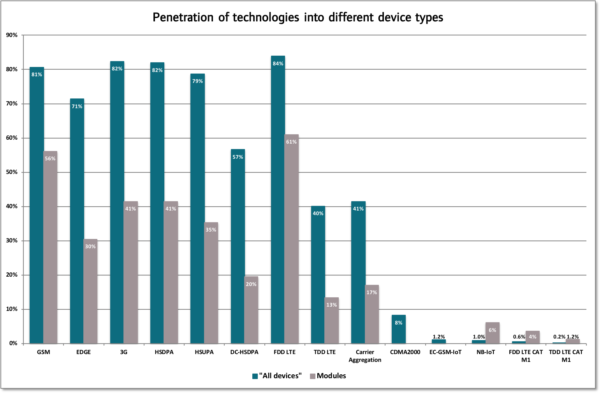 For the first time, more single-mode devices incorporated LTE than any other bearer technology: LTE featured in 40 out of 82 single-mode devices while GSM was the bearer in a further 33 of single mode devices.
Currently enabling the certification of LTE devices operating in 23 FDD bands and six TDD bands, the GCF scheme provides a robust method for verifying the correct operation of Carrier Aggregation, where the number of possible band combinations is growing exponentially. Carrier Aggregation was certified in 216 devices in 2017 – 49 per cent of LTE devices and 42 per cent of all certified devices. Just seven per cent of devices certified in 2016 supported Carrier Aggregation.
TD-LTE was a feature of 40 per cent of all certified devices, while VoLTE was certified in 260 devices – 59 per cent of LTE devices.
Eight per cent of all certified devices supported CDMA2000.
The proportion of devices incorporating 3G and GSM are now both in decline. 3G penetration fell from 85 per cent in 2016 to 82 per cent in 2017 while GSM penetration continued its gradual decline from 84 to 81 per cent.
2017 saw the certification of the first modules offering the 3GPP LPWA cellular IoT technologies NB-IoT, LTE CAT M1 and EC-GSM.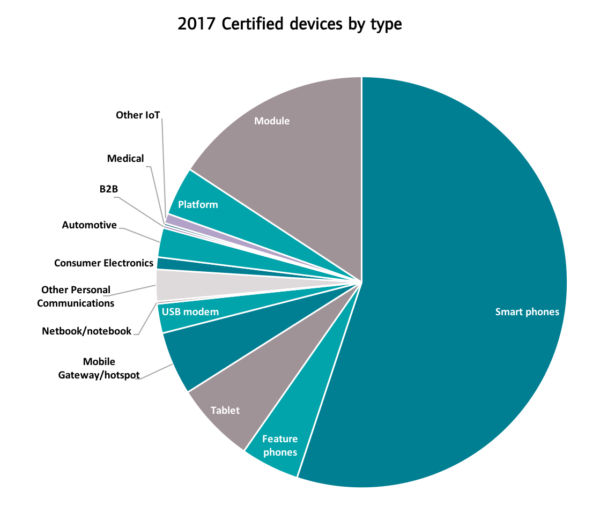 Certified devices ranged from simple single-mode, single band products to highly integrated devices incorporating five bearer technologies capable of operating over 37 different frequency bands. 66 per cent of all devices incorporated LTE, 3G and GSM, up from 60 per cent in the prior year. Across all certifications, the "average" certified device in 2017 incorporated three technologies and 13.4 frequency bands.

Smartphones accounted for 55 per cent of all certifications while wireless modules, designed for adding mobile connectivity to other products, made up 16 per cent of certifications.
ENDS
Copies of the full 2017 Mobile Device Trends report will be available from the GCF executive meeting room at Mobile World Congress.