GCF Certification is a globally-recognised benchmark of interoperability between mobile phones, or other devices incorporating cellular connectivity, and mobile networks. The scheme identifies products as being interoperable with multiple networks and therefore suitable for sale in multiple markets.
Only companies within Manufacturer and Associate Manufacturer categories may certify a product using the GCF scheme.
For those manufacturers selling globally or regionally, the GCF Certification scheme shortens time-to-market and expands the addressable market. Compared with undertaking acceptance testing on a bi-lateral basis with multiple operators, GCF Certification dramatically cuts a manufacturer's cumulative testing costs.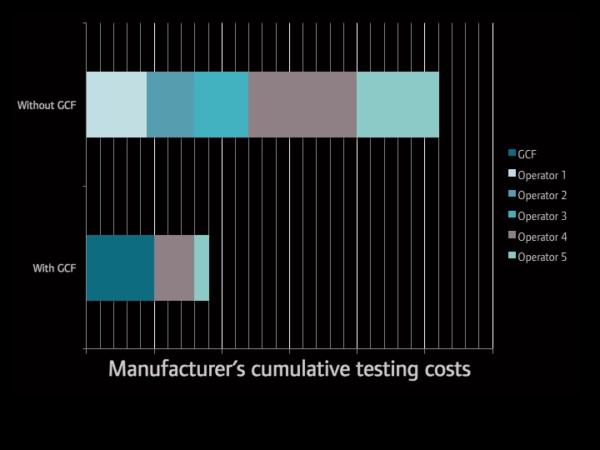 In addition, GCF membership provides invaluable opportunities for manufacturers and client application developers to meet and collaborate with representatives of the world's leading operators.
Membership privileges and annual fees vary according to the member's product type, quality management system, in-house expertise and experience. See the table below.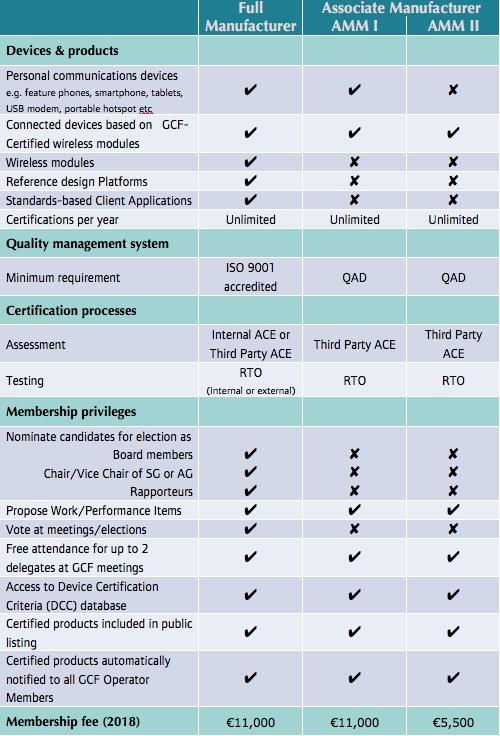 Joining GCF is a straightforward process that starts with a

Membership Application Form
Contact GCF to discuss your membership options.
Notes:
Associate Manufacturer Membership is designed for organisations that have a quality management system in place meeting the requirements of ISO 9001 or may be new to the mobile product market
A manufacturer who wants to produce mobile devices or other personal communication devices such as wireless USB modems or portable WiFi hotspots, can join GCF as an Associate Manufacturer Member I (AMM I)
A company manufacturing M2M, IoT, industrial or consumer electronic devices that incorporate cellular connectivity by means of a GCF-certified embedded wireless module or GCF-certified platform can certify its products as an Associate Manufacturer Member II (AMM II). An optimized certification scheme is available for the certification of devices based on GCF-certified modules and platforms
A developer of standards-based client applications for 3GPP and/or 3GPP2 devices can join GCF as a Client Vendor Member.
QAD = "Quality Assurance Declaration": During the membership application process, all applicants submit a declaration confirming that their company's quality management system adopts the principles of ISO 9001
ACE = Assessment Capable Entity: An entity that is capable of assessing the compliance of a Product against the relevant GCF Certification Criteria in accordance with GCF procedures. This may be a manufacturer's own ACE or a Third Party ACE which is an Observer or Manufacturer Member that offers these services as a third party
RTO = Recognised Test Organisation: Actual testing must be undertaken by a suitably qualified test organisation recognised by the GCF.
Newly certified products are included in the public listing