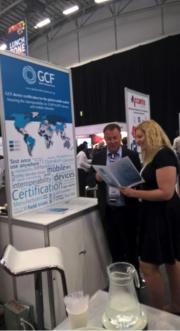 GCF attended LTE Africa, 17-19 November 2015 in Cape Town, to discuss the relevance of GCF Certification to mobile industry stakeholders across the continent.
GCF Certification gives operators an assurance that a mobile phone or wireless devices:
will perform correctly on their network infrastructure
deliver a seamless roaming service and
associate the operator's brand with high quality service delivery.
Certification generates efficiencies that:
Reduce testing costs
Shorten time-to-market
Benefit the whole mobile industry.
Take a look at this

MasterClass
presented by GCF at the event and our blogpost on the event's website.
GCF Certification is playing a critical role in ensuring the availability of multi-band, multi-mode devices incorporating LTE and enhanced capabilities such as Carrier Aggregation. The scheme is accepted by a broad cross-section of the world's leading operator groups.