Representatives of member companies gathering in Lisbon, Portugal, between 20 and 22 March 2012 celebrated the milestone of the 50th meeting of GCF's Steering Group.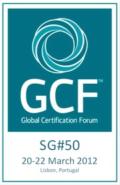 Open to all members, the Steering Group (SG) is GCF's main decision-making body. The quarterly SG meetings are responsible for deciding which technologies, features and functionalities should be brought within the 'test once, use anywhere' certification scheme.
Originally called the GSM Certification Forum, GCF was founded at a meeting between the GSM Association and device manufacturers in London on 24 August 1999. The meeting was called to find a long-term replacement for an interim Voluntary Certification Scheme (VCS) which had been initiated by Adriana Nugter, the then chairman of GSMA, to fill an interoperability gap created by the passing of the RT&T Directive by the European Commission earlier that year. At the time of the 50th SG meeting, Adriana was the Operations Manager for GCF.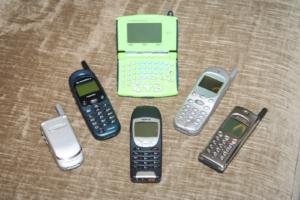 Since the first GSM device was certified on 17 May 2000, GCF Certification has evolved to encompass 3G (UMTS/WCDMA), HSPA and LTE. As its scope has expanded, GCF Certification has become a truly global scheme. Membership now includes more than 50 manufacturers: all the world's leading operator groups are represented among the 110 operator members. Device certifications have increased from 12 in 2000 to 479 in 2011.
Prior to the start of the formal business, members celebrated SG's 50th meeting with a guided walking tour of central Lisbon. Current members were joined by a number of delegates to the original London meeting who had gone on to contribute to the early development of GCF. The walk culminated in a celebratory dinner at which the then SG Chair, Colin Hamling of Telefonica Digital, reflected on GCF's achievements and its collaborative culture.